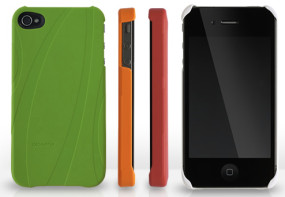 Environmentally friendly iPhone casing (ist)
Jakarta – Who would have guessed, the plant turned out to be so strong materials as a protective iPhone class mobile phone 4. Casing that can also be for the iPhone 3G, 3G, iPod Touch and Nano, was deliberately made from plants for environmental friendliness.
The casing is produced by Bioserie, a Hong Kong company. Quoted from Thinq, Wednesday (12/22/2010), the chassis 'green' is reportedly able to contribute to reducing greenhouse gas emissions in their production processes.
Called Green because Bioserie using unique materials in the form of a pure bioplastics from plants and can be recycled.
Because it is made from plants, in addition to reducing greenhouse gas emissions in their production process, the casing Bioserie also contribute to reducing the use of plastic materials and do not poison the environment because it is free of petrochemicals.
"We are very pleased to offer solutions that truly environmentally friendly, which helps consumers enjoy their technology at hand without worrying about the damaging effects of petrochemicals," said CEO Rich Bioserie Kaplancali.
Bioserie membanderol environmentally friendly casing is at USD 34.95, or about Rp 315 thousand, inclusive of international shipping costs.
Rachmatunisa – detikinet
2 Responses to "iPhone 4 Got Casing of Plants…."