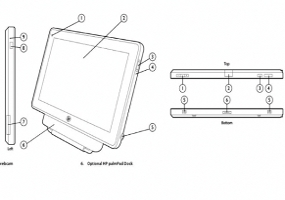 Jakarta – Hewlett-Packard's intention to shake up the iPad hegemony in the realm of the tablet PC will reportedly be realized in the near future. The big PC vendors are also staying digadang PalmPad ready to remove the latest generation as a 'killer' iPad.
Quoted from FoxNews, Wednesday (22/12/2010), PalmPad said to have a more slender body and a slightly smaller screen than the iPad, which is only 8.9 inch. Weighing was only about half a kilogram.
Features presented in PalmPad also mentioned will exceed the Apple gadget. Starting from the buried USB 3.0 ports, mini-HDMI port, and front camera (1.3 megapixels) and rear (3 megapixels) which is equipped with LED flash.
As for the operating system, Android as PalmPad not use an average of tablet PCs in general, but try to look a little different, by bringing WebOS.
Views PalmPad is still a mystery. But FoxNews admitted that he had a tablet PC design drawings are complete which is equipped with a dock and details.
According to sources, the International Consumer Electronic Show 2011, held in Las Vegas, USA on January 5th, 2011 will be an event for HP to showcase their work at once to show the world that they are also capable of making sophisticated tablet PC.
Understand it, before HP is quite often reportedly were preparing a tablet PC called Slate. But until some long awaited news sank by itself.
Ardhi Suryadhi – detikinet